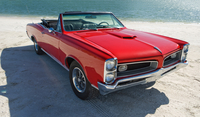 For clients that have invested in a classic car, it is understood that it takes much more than age to make a car a classic. A collector car is an investment that will continue to appreciate in value throughout the years.
We understand that classic and antique cars are unique and require a unique policy. Our new website insuremyclassiccar.com is dedicated to clients looking for classic insurance policy for their car.
To obtain the best possible rate on Classic or Collector Cars, Some of the factors that are taken into consideration are miles driven, vehicle age, and the modifications that have been made to the vehicle. We will work hard to ensure your investment has the perfect coverage.
Here are some other features you should look for when shopping for classic car insurance in:
Agreed Value - This is the value that the provider agrees to pay you in the event of a covered total loss. There are many companies that will try to sell customers on "actual cash value" or "stated value", but with an agreed value there are no questions as to the amount that will be received if the covered car should be destroyed.

Low Rates - If you are only driving your car part-time, you want to find a policy that will take this into consideration.

Coverage Options - Working with an insurance professional to determine which coverage you do and do not need is important. Your coverage should be specific to you and your car.

Generous Mileage - Maintaining value for a collector car often requires the car to be driven less than 5,000 annual miles. If you want to drive your car more than this, you should discuss your options with your insurer.

Roadside Assistance -When you are driving your classic car, you should be sure that you have flatbed coverage and that your coverage will extend to the closest qualified repair facility.
Whether you are in possession of a classic Mustang, Camaro, Charger, Corvette, Thunderbird, or any other collector car, talk with us today to identify create an insurance policy that combines the best coverage, value and price for your situation.
We are licensed to insure in 42 States and look forward to assisting you.
877-917-5295